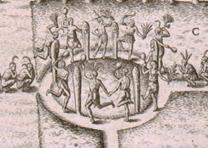 I'm honored to be attending this Gilder Lehrman Seminar, and look forward to bringing back lots of ideas, resources, and inspiration to weave into FSI's Expeditions.  I've been fascinated by Regional Studies since I was a little girl and learned more about time and place on travels and hikes with my family than from any textbooks.  As a teacher, I've always designed opportunities for students to ask questions and explore the intersection of natural and cultural history in Arts & Humanities, Science, Social Sciences, and Math.
(This is my first ever personal expedition to LA, by the way!)
Look for some blog posts in early July!
CONTACT:
Josh Landon
landon@gilderlehrman.org
Tel.: (646) 366-9666 ext. 37
FOR IMMEDIATE RELEASE
Asheville, Franklin School of Innovation's Director of Curriculum and Coaching to Attend Seminar on "American Origins: 1492 to 1625" at The University of Southern California
Asheville,  June 14, 2015 – This summer, Franklin School of Innovation Director of Curriculum and Coaching, Edie McDowell, will travel to The University of Southern California in LA, California to attend a weeklong seminar entitled: "American Origins: 1492-1625."
Led by renowned historian Peter Mancall, Andrew W. Mellon Professor of the Humanities and Professor of History and Anthropology, University of Southern California and Robert C. Ritchie, Former Director of Research at the Huntington Library, Art Collections and Botanical Gardens, seminar participants will include K–12 teachers, library educators, and National Park Service interpreters, who were selected by the Gilder Lehrman Institute of American History in a competitive process.
Title:  AMERICAN ORIGINS: 1492 TO 1625
When:  June 28-July 4
Where:  University of Southern California, Los Angeles, California
This seminar will explore the initial creation of "America," with a particular focus on the period from European contact (starting in 1492) through the establishment of permanent colonies in English North America (1620). We will draw extensively on Native American and European understandings of the early colonial period in territory stretching from Arctic Canada to Brazil, which will necessitate wrestling with both oral and written sources. We will also examine visual and material evidence relating to local and long-distance travel and trade, including the dangers migrants faced on the high seas and the woes that came to Natives who suffered from an invasion of European diseases as well as the threats to their communities and ways of life posed by land-hungry colonizers and soul-hungry priests. The seminar will include a visit to a colonial Spanish mission site as well as the chance to look at rare maps and other manuscript materials in the collections of the Huntington Library. "America," the seminar will suggest, cannot be understand only as a physical place. Instead, we need to recognize it as the location for countless encounters, which together led to far-reaching changes in the lives of indigenous Americans as well as European and African travelers.
In 2015, the Gilder Lehrman Institute will offer more than 1,100 educators the chance to study American history with leading historians at top institutions throughout the United States, Canada, and United Kingdom as well as online. Each participant will work with primary source documents provided by professors and the Gilder Lehrman Collection, and in addition will receive reading materials, room and board, transportation for tours, and a travel stipend. Since the program's inception, more than 10,000 educators have participated in the Gilder Lehrman Teacher Seminars.
More information about this seminar and the complete list of 2015 Gilder Lehrman Teacher Seminars is available at www.gilderlehrman.org/teacherseminars.
About the Gilder Lehrman Institute of American History
The Gilder Lehrman Institute, founded in 1994 by philanthropists Richard Gilder and Lewis Lehrman, is a nonprofit devoted to the teaching and learning of American history.  The Institute's twenty-year track record of providing teacher training and classroom resources, drawing on a roster of leading historians and a collection of more than 60,000 primary source documents, has earned Gilder Lehrman international recognition, including awards from the White House, the National Endowment for the Humanities, and the Organization of American Historians.  Each year, the Institute offers support and resources to tens of thousands of teachers, and, through them, enhances the education of hundreds of thousands of students of all backgrounds across public, including charter, private, and parochial schools. For further information, visit www.gilderlehrman.org or call (646) 366-9666.
###
The Gilder Lehrman Institute of American History
49 West 45th Street, 6th Floor
New York, NY 10036
https://www.gilderlehrman.org/history-by-era/americas-1620